Project Brief
2 Storey Dwelling.
Double Height spaces.
Recessed into hill on-site.
Breezeway / Covered parking.
Open plan kitchen, dining and living with Pantry 'press'
Utility and WC: heating system to be installed in utility.
Three bedrooms: all double beds.
Main bedroom to have ensuite and walk-in-wardrobe.
Other bedrooms to be close to family bathroom.
Small office space.
Outbuilding for workshop and general storage.
Promote outdoor living and sitting areas with seamless relationship between inside and outside.
Garden to flow with house.
Maximise views of landscape and landholding.
Maximise natural light penetration and solar gains.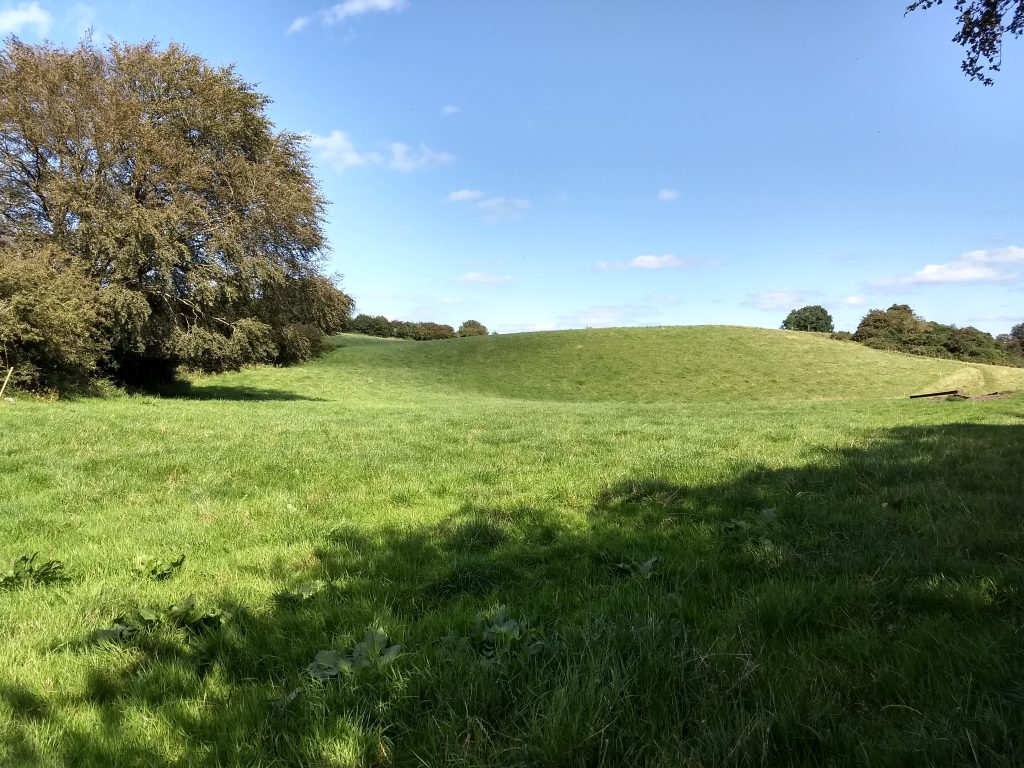 Design Development
Conceptual Ideas:
The new dwelling is to be constructed on a green field site surrounded by mature trees / hedging and agricultural fields with views to the 'Ben of Fore'. The siting of the proposed house should compliment the environment it sits in and not visually impact on the setting.
Following this, the placement of the dwelling is vital, here you can see the impact of moving the dwelling down the hill. As such, our thoughts for the dwelling evolved around the following concepts:

1 – Recess the dwelling into the hill to settle it onto the site
2 – Using readily available materials such as steel to achieve cantilevers and the internal stairs
3 – Consider phased construction while designing
4 – Create a service core to bring down costs and maximise space
5 – Maximise solar gain and views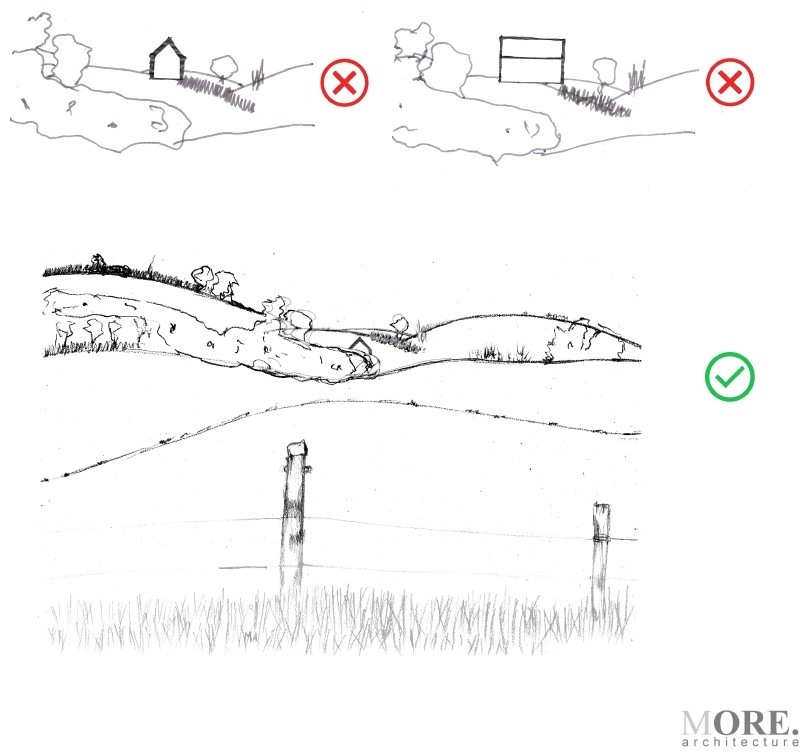 Site Layout
The design principles and conceptual ideas outlined in the development sketches section start with settling the The design principles and conceptual ideas outlined in the development sketches section start with settling the proposed dwelling into the site. The dwelling is placed at the base of the hill to shelter and nestle the dwelling into the site. As seen in the development sketches placing it here provides more privacy for the family.The approach to the dwelling will follow the line of the road from an existing farm entrance. Bringing the user along the mature hedge and under the beech trees.
As one of the main features of the proposal is to be the use of steel, the upper floor is cantilevered over the ground floor to create a covered patio area outside the living space. There is also a covered parking area to the rear of the ground floor. This covered parking gives the option of expansion in the future.
WTo increase the relationship between the proposed dwelling and the landscape a view to the hill of ben will be captured between the two beech trees.
Illustrative Views
The image below shows the proposed dwelling and garage situated into the site. The dark material choice helps reced the design into the hillside. Shou Sugi Ban (charred timber) cladding for the first floor with stone or concrete to ground the design and cedar wood to contrast the darker materials. Featuring large glazing to capture the south light into the living spaces.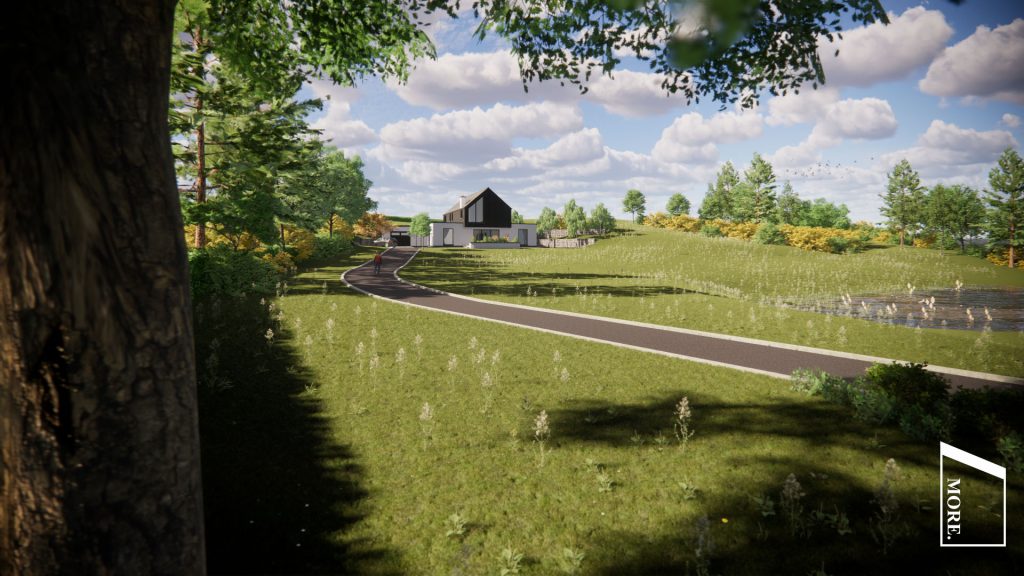 Interior View: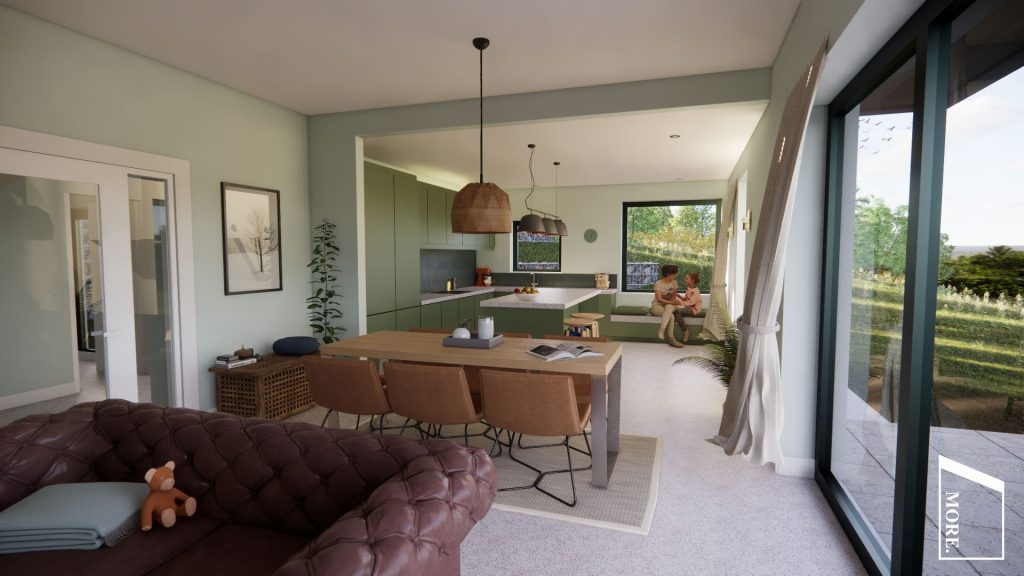 Courtyard View: