3
passion for design
MORE Architecture is a midland based BIM ready design studio offering architectural and interior design services to residential and commercial clients. Formed in 2016, our office is focused on exciting projects of small to medium scales.   Our work is guided by a commitment to create modern solutions sensitive to the unique characteristics of each location. Our aesthetic is warmly minimal with careful consideration of light, space and materials to create an enduring architecture of functional beauty. As an architectural practice with a background steeped in construction we can efficiently deliver a project from the preliminary design and planning stages through to the fine detailing of finish elements. We ensure a high level of client service and project management culminating in exquisitely designed and detailed buildings.
Start your Project here
Concept Design
Whether you are looking to build your first house or an extension to your home. You should start with the concept design drawings. This is the most cost-effective way to get your ideas on paper and to see if it's worth taking them to the next stage.
Planning Permission
Planning Permission is just a part of the process. Working with competent professionals is the only way to ensure a speedy, positive application. At this stage, we would develop the concept drawings that you love and have approved into planning drawings.
Construction Supervision
Once we have achieved a granted decision for planning permission, construction can commence. It is imperative you procure a professional to supervise works on your project.
"I came across these two lads by chance and they really opened my eyes to the world of architecture. Ian and Rory compliment each other brilliantly and I felt straight away valued and with all their experience, they challenged me on my brief design and made me think of a house for the future rather than present. The concept design has excelled beyond what I could imagine and that is credit to both Ian and Rory for their dedication and the result is I have a dream home."
"It has been an absolute pleasure working with Rory and Ian. I have had no experience working with architects and had no idea what to expect, the guys made me feel at ease straight away with their extremely professional approach. They are straight talking and very diligent, they worked very hard on my project. They managed to stretch my budget to meet our brief and the result is more than I could have ever hoped for."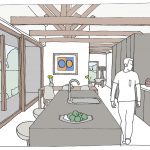 "MORE Architecture did a fantastic job on our cottage renovation. They really listened to what we needed and what style we liked. They worked the house to the best of its ability. We were amazed at Their idea when they came to us with the first drawings. I couldn't recommend him enough."
"Having had no previous experience with architects, I didn't know what to expect, however when I met Ian & Rory I felt at ease in their company & knew we'd work well together. I explained what I was looking for & they listened, delivering a design concept that is practical & sensitive to my budget & the existing house & environment. The lads are professional, creative, honest & straight to the point. I highly recommend them as they deliver on their promise & have a wicked sense of humour to boot.
Ian & Rory are two of the best & it's being a privilege to work with them."
"Passion for beautiful space"
Blog
Three Planning Applications Granted in Meath, Clare and Wicklow respectively Here at MORE Architecture Ltd. we are delighted to announce [...]
Uncategorized
MORE Architecture Ltd. of Westmeath Awarded Best Of Houzz For the second consecutive year running Over 40 Million Monthly Unique [...]
Blog
Architect in Westmeath, speak with a local Architect today MORE Architecture an approachable local architect in Westmeath. We invite you [...]