New build extension and partial remodel of existing dwelling.
Project Brief
This extension was to provide space for a new kitchen with an informal sitting/ social area off this whilst also maximising the southerly aspect and preserving privacy from neighbouring dwellings.
The development was to provide the following:
Kitchen to have a large island;
Sitting area to incorporate a stove;
Sitting area to include a generous window seat;
Proposed materials to compliment existing materials;
Generous glazed units to improve connection with garden;
Extension to compliment garden design, change in levels and provide a new patio area.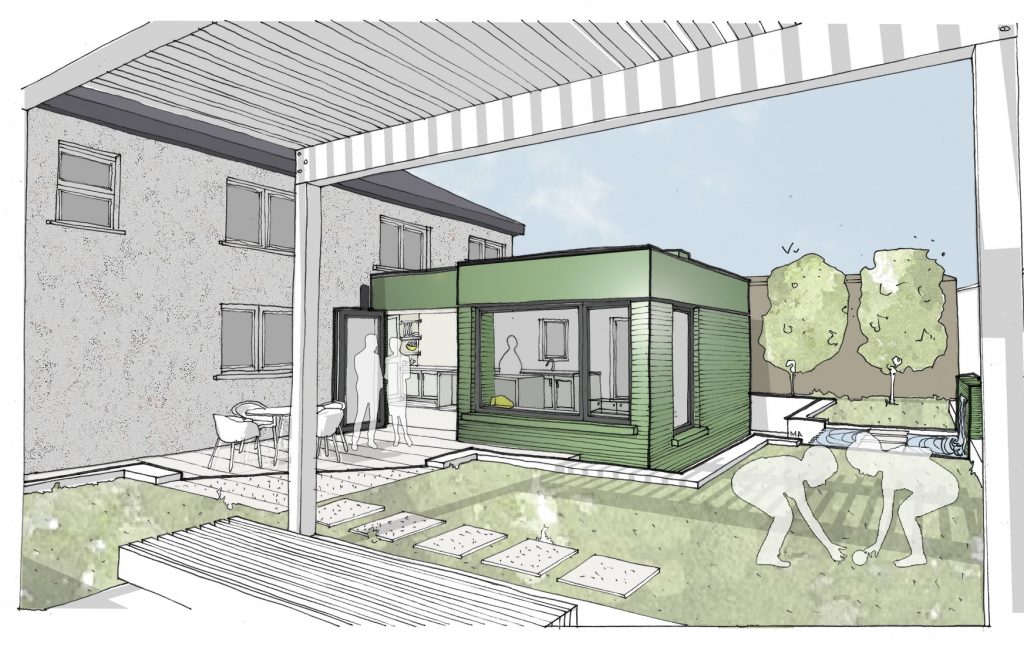 Site Layout Out
From the image below you can see how the house and new-build elements work together. Large glazedsections flood the kitchen and living area with natural light and glass doors off the kitchen allows for easy access to the patio and garden.
The garden is terraced to increase the connectivity with the family spaces without undermining the boundary wall foundations.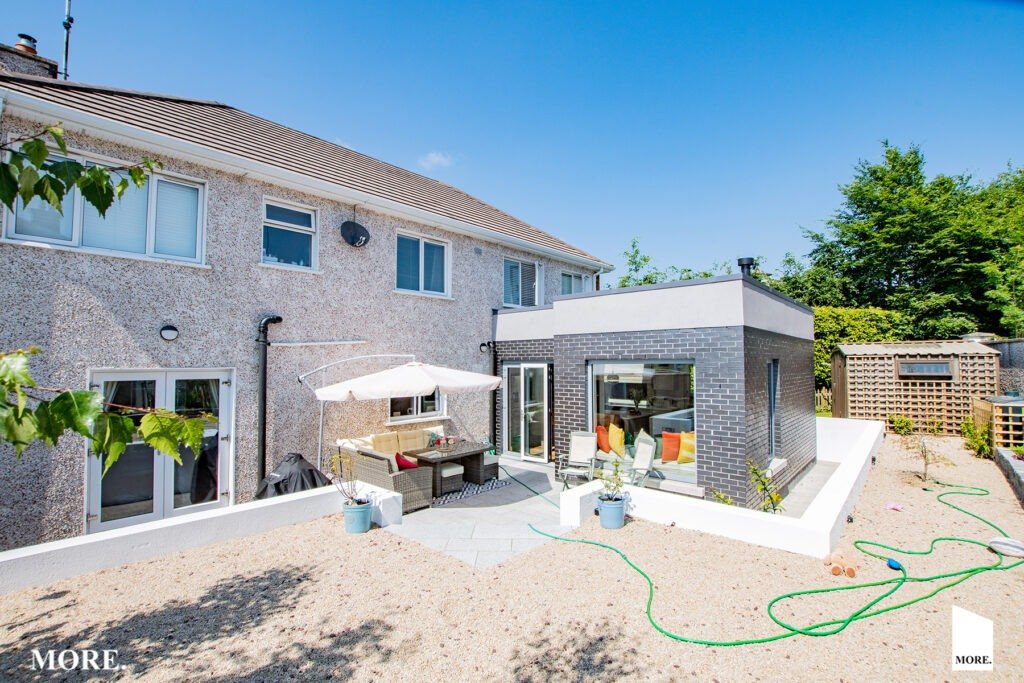 In terms of materiality of the new extension, it is proposed to use a green glazed brisk as a contemporary, easy to maintain material to give the new build a real sense of individuality and theatrics.
The choice of green as a colour, ties in with the concept of being a garden room as well as contrasting/ working with the existing material palette.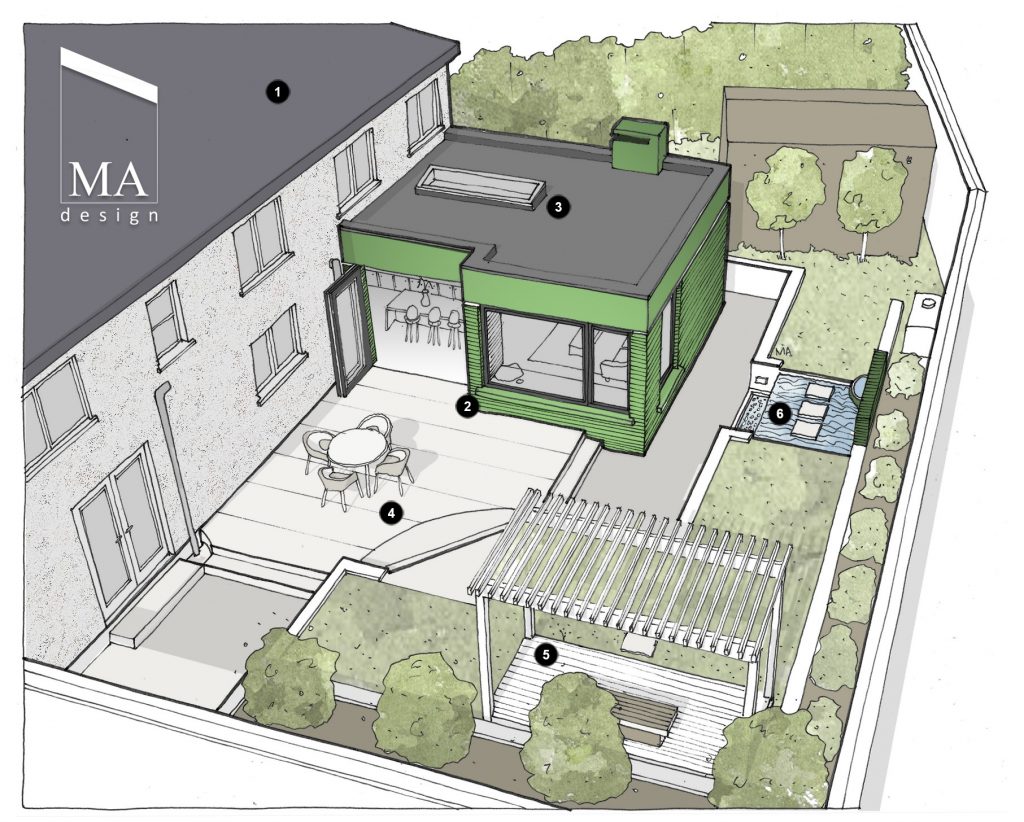 ---
Floor Plans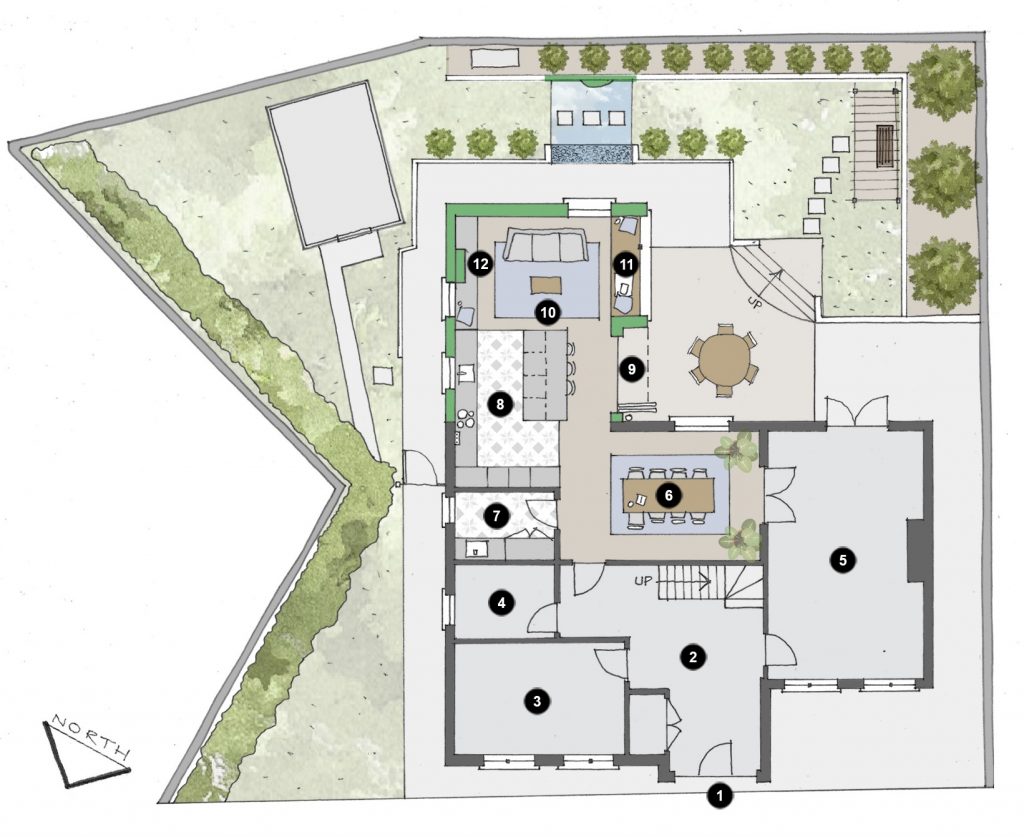 The spatial response above is the distillation of ideas tested in the development stage. Having rearranged the existing utility, we were able to completely open the combined kitchen, dining and family spaces.
The other key move is changing the orientation of the new kitchen and family spaces so that they look across the neighbouring back gardens. This concept gives the impression of having more space with more sky being visible.
The kitchen and island take centre stage with the dining remaining in the same location (but avails of having more space). The design intention is to ensure sociality and conversation.
A large window seat basks in south sun and a stove opposite adds warmth on winter evenings.
A french/ bifold door opens out to the patio where the garden is reduced to a series of plateaux. The points of interest include a pergola with seating and a water feature.
Total floor area = 27.75m² (approx.)
Illustrative View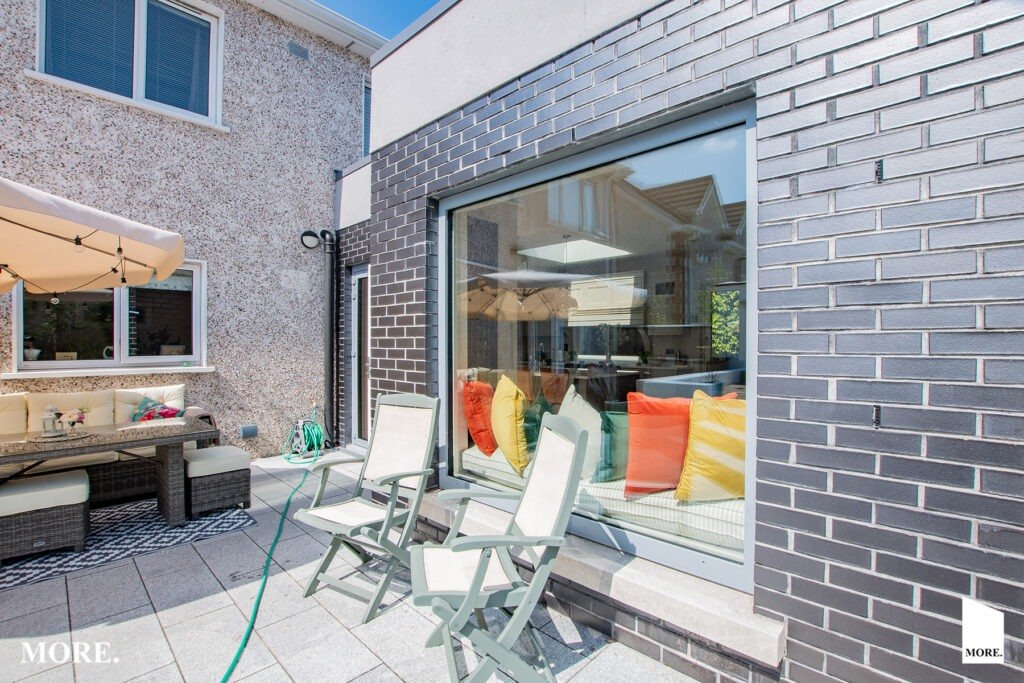 Above is an illustrative view from the pergola looking towards the extension. The placement of the glazed sections provides lots of natural light and views into the garden. The combination of forms and materials enliven the overall project, putting forward a confident and contemporary prescence. The scale of the glazed elements adds to this effect also.
---