Construction of a new build single storey residence and garage on a green field site.
---
The development to provide:
Open plan kitchen, dining, living;
Utility, boot room, plant room;
3 double bedrooms;
Master bedroom to include en-suite and changing area;
Possible Mezzanine to contain office or guest room;
2 bay garage with large covered area;
Additional notes:
Full height windows.
2.7m Ceiling Height.
Frame view of existing mature trees.
Covered area from car to house.
Courtyard arrangement for sheltered outdoor area.
Retain use of field of possible.
---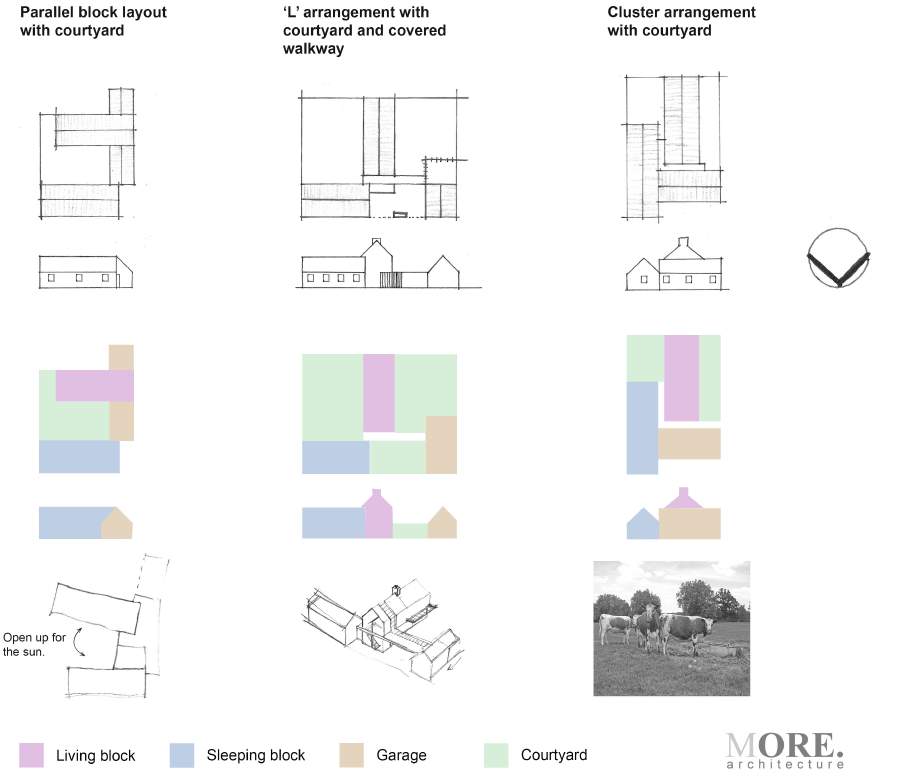 ---
Following extensive exploration of the site, the most advantageous location for the house was chosen. The next step was to consider the layout of the house that best fulfilled the project brief and carious site parameters.
As such, our thoughts for the dwelling evolved around the following concepts:
Placing the dwelling on a gently graded area of the site sheltered from noise and being overlooked whilst making the most of the sun;
Create a vernacular cluster arrandement of interlocking living and sleeping zones;
The forms of the house are arranged to create multiple courtyards;
Maximise solar gain through large glazing elements.
---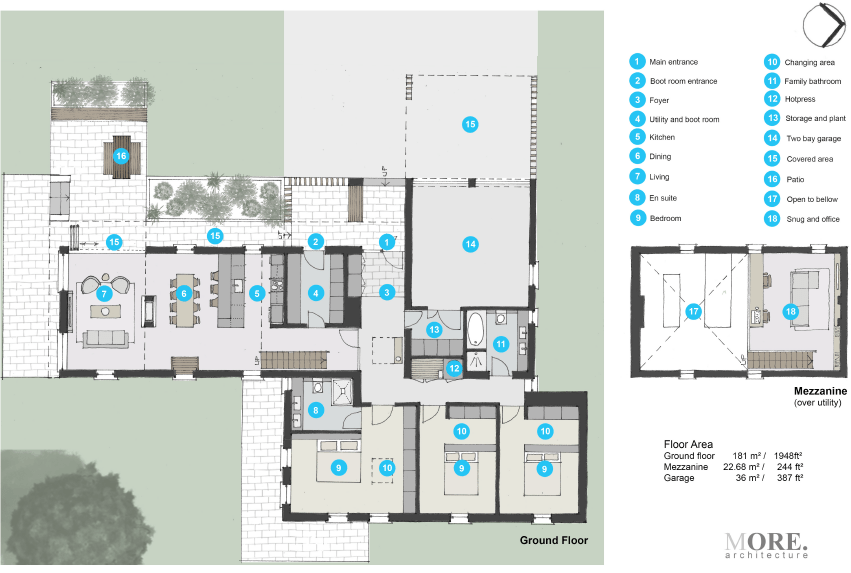 The design principles and conceptual ideas outlined in the development sketches start with the siting of the house. The chosen location of the dwelling reduces overlooking and noise pollution as well as maximising sun and views.
The dwelling is arranged as an inter-conneced cluster of simple forms orientated to allow daylight to flood the main living spaces as well as to capture views of the existing trees of high visual amenity.

The geometry of the plan takes inspiration from a vernacular farmstead cluster whereby the structures create various courtyards and patio areas. The primary courtyards are orientated to the south and west in recognition of client lifestyle and expected usage.
A curving avenue takes visitors underneath the large beech trees to the dwelling entrance and parking area. A second and more direct driveway was possible, but lacked the theatrics of the proposed driveway.