Construction of a new build two storey residence and garage on a green field site.
---
The development to provide:
Open plan kitchen, dining, living;
Separate sitting room;
Utility, boot room, cloaks;
Four bedrooms – two ensuited;
Family bathroom to be upstairs with a large window;
WC on ground floor with shower;
Music room;
Office;
Garage and carport;
Additional notes:
Charging point.
Bright spaces.
Sliding door between kitchen and living spaces.
High/vaulted ceilings in main spaces.
Two ovens for kitchen.
Floor to ceiling windows in kitchen.
Outbuilding for music room and office.
Covered patio area.
---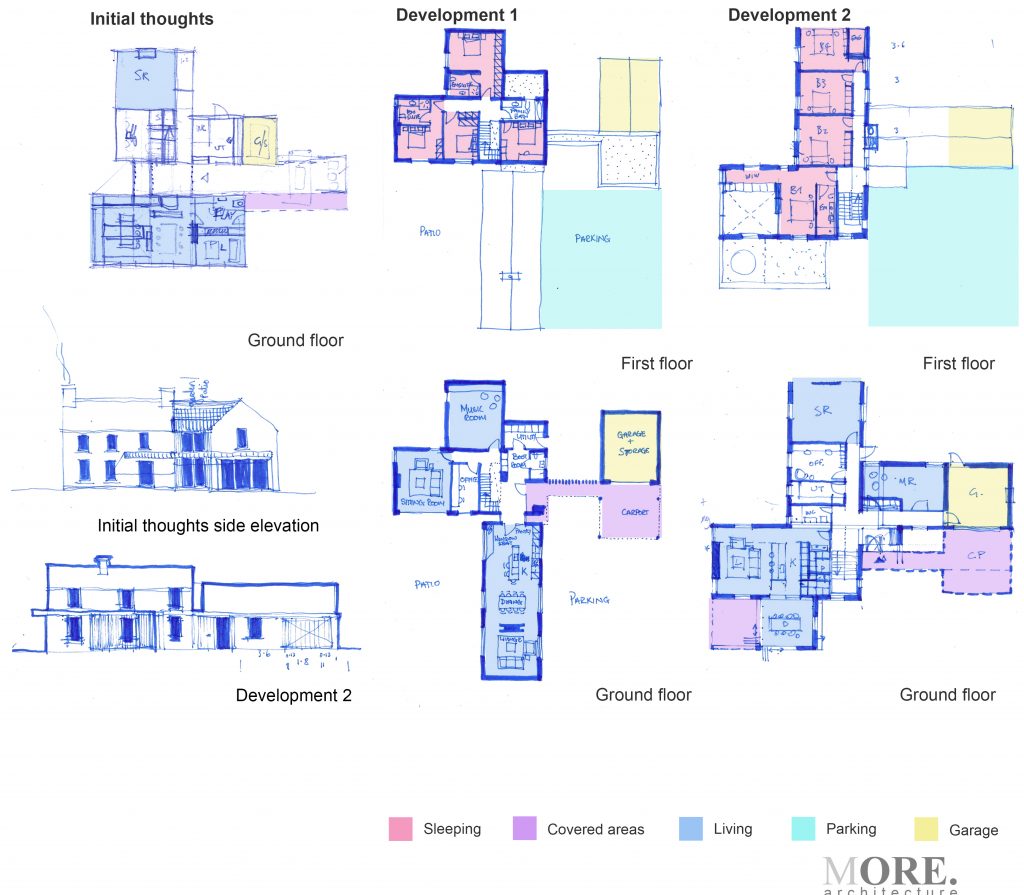 ---
To cater for a large project brief we initially explored a number of design options. It is important to avoid a sprawling plan, particularly when trying to give the proposed dwelling its best chance during the planning process. The key strategy for this design is to locate the main spaces at the heart of the house. This has a major impact on reducing the home becoming disconnected and disjointed.
As such, our thoughts for the dwelling evolved around the following concepts:
Provide the brief in a concise plan to avoid a sprawling disconnected plan;
Orientate the dwelling to capture the best of the sun path in the appropriate spaces;
Create sheltered courtyards and provide flush thresholds to promote outdoor living;
---
The chosen position for the house is integral to the design as well as to the challenges of the site.
The forms protect from the prevailing winds as well as orientating the house to maximise solar gain. The house is pushed back into the site to gain privacy but also respects its neighbours by not interrupting their access to views and light.
The primary outdoor living space is sheltered by the house creating a private courtyard. lanting is employed as screening from both the elements and overlooking.